Archery & Paintball Products
We are pleased to offer a selection of ATLAS & LAPORTE Archery or Paintball Target Throwing Machines.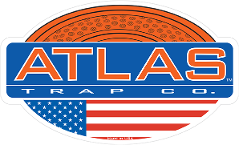 ARCHERY & PAINTBALL PRODUCTS
(Targets sold separately)

Aerial archery made easy with the Apollo™ archery machine. The Apollo is designed for use by individuals, clubs, hunter's education programs and anyone who enjoys shooting aerial archery targets. The Apollo was conceived in the spirit of our RTC clay target thrower, the most versatile unit in our product line. Coupled with the input of some of the world's finest archers, the Apollo's resulting flexibility is simply unmatched. Quick and easy adjustments for speed and trajectory along the 90°target spectrum allow for an ever-changing practice field perfect for all ages and skill levels. By stepping on a button you can launch targets straight up, along the ground and everything in between. The Apollo is produced with commercial-grade components yet is surprisingly lightweight for portability.

Adaptable with our full line of accessories, the Apollo can be tailored to suit the needs of any club or private home. Standard features include a 100' foot pedal release cord and a five year warranty, with lifetime coverage on the clutch and electronics — the best in the industry.

Throws Vertical, Rabbit and Looping Targets
Highly Portable
Fully Automatic
Adjustable Target Distance
Fast Cocking Time
Adjustable for Wind
15 Target Capacity
Commercial Grade
Powered by 12 Volt Battery
100' Foot Pedal Release Included
5 Year Limited Warranty Plus Lifetime Warranty on Clutch & Electrical
MADE IN USA
(The Apollo™ holds 15 targets)

Lightweight, durable foam targets, can withstand 500 impacts.

Made especially for the Atlas Apollo™ Target Launcher.

Price: $15.00 each

Pack of 15: $225.00

ARCHERY & PAINTBALL PRODUCTS
The 65T25, our top of the range Phoenix®, has a capacity to hold a total of 65 targets and increases the total shooting time with less refills required.

With varying target trajectories anywhere between rabbits and verticals, the Phoenix® 65T25 is ideally suited for leisure or competition shooting at archery clubs, clay shooting grounds, golf clubs, country hotels, summer camps, schools, leisure resorts, corporate entertainment and at other venues.

Number of Traps: 1
Magazine: 5 columns
Target Capacity: 65
Delivered with Spring: Grey
Spring Compatibility: N/A
Movement: N/A
Trajectory: Rabbit, Teal and Looper (Easily adjustable trajectories for consistent targets from 0-90 degrees)
Mode of Release: Comes with 75' push button release
Re-cocking Times: 2.2 seconds
Voltage: 12V
Powered by 12V battery, gel battery
Battery not included
Specific Option: Mobile with pneumatic wheels and handle for easy transportation over all ground condition
Warranty: 2 Years
(Part# 8000103 & 8000105)

The targets are very light (4 oz) and harmless. They are UV resistant, non-abrasive and 100% ecological. Made from high density foam, the targets efficiently stop the arrows and also allow for easy extraction.

The target is waterproof and can be washed with a pressure hose. The target rings are clearly visible with a prominent bulls-eye.

Each target can withstand in excess of 500 impacts, and after each impact the elasticised properties enables the target to regain its shape.

Warning: Our archery targets have been specifically manufactured to work with the Phoenix® archery trap. Using other products may cause injuries or degrade the proper use of the machine, making it unsafe.

Price: $19.70

Pack of 65 Targets: $1,280.50
(Part# 8000204 & 8000205)

The Laporte Snake Bows have suitable draw weights for beginners and can be used by both left and right handed archers.

There are two available weights: 22lb & 26lbs
Our arrows are especially designed for the aerial shooting target.

Their carbon structure guarantees accuracy, reliability and robustness for long hours of practice. They have voluntarily oversize empennage which slows down the arrow and reduces considerably the shooting distance.

Available in two diameters and two lengths:

5.0 diameter; 76 cm

5.5 diameter; 79 cm

Never use arrows having of the empennage with a lower size than those delivered. The arrows must be used only with the Snake Bow.

Price: $10.95 each

Pack of 60: $657.00
Laporte Safe Arrows - Choose Outdoor or Indoor

(Part# 8000168 & 8000169)

New: the Safe Arrow and its rebound effect when used on a wall.

The Safe Arrow outdoor: With its end foams "outdoor", it is reserved for an external use (projection up to 150 feet)

The Safe Arrow indoor: With its end foams "indoor", it is ideal for the indoor shooting and does not require any protection.

Price: $16.45 each

Pack of 60: $987.00
5 Snake Bows, 60 Flu-Flu Arrows, 5 arm guards and 5 finger guards
Safety Kit - Choose Indoor or Outdoor

5 Snake Bows, 60 Safe Arrows (Indoor or Outdoor), 5 arm guards and 5 finger guards
The Paintball Targets are the same size as the Archery Targets (25cm) but they have hard plastic on each, which allows for the powder balls to rupture. The targets are a little bit thinner to accommodate the thickness of the plastic on both sides.

These are specifically for use in the Phoenix® 65T25 Archery Launcher.
Paintball Powder Balls for Paintball Targets - Box of 1000

These Paintball Powder Balls are especially designed for use with the Paintball Targets. They are easy to clean off and will give your targets a much longer life.
Other Laporte Archery

Accessories Available
Foam Tip for Safe Arrows - Outdoor Price: $5.90 (Part# 8000164)
Foam Tip for Safe Arrows - Indoor Price: $5.90 (Part# 8000165)
Arrow Bracket for Snake Bow - Left Handed Price: $3.14 (Part# 2314RH)
Arrow Bracket for Snake Bow - Right Handed Price: $3.14 (Part# 2314LH)
Snake Bow Cord Price: $17.99 (Part# STR60)
Flu-Flu 5.5 Nock Price: $1.49 (Part# 8000154)
Arm Guard Price: $10.95 (Part# 8000251)
Finger Guard Price: $4.45 (Part# 8000252)
Laporte Phoenix® Foot Release with 82' Cable* Price: $275.00 (Part# 8140002)
Laporte Phoenix® Automatic Release Timer* Price: $299.00 (Part# 8120001)
*We have a lot of other release options available on our Accessories page